Martial Arts Tournaments (or other Tournaments)
Have us do the Photos of your Winners, Teams, and Special Guests.
Pictures of Winners upon podiums.
Team or Group Pictures. Pictures with Special Guests.
Pictures immediately printed On-Location.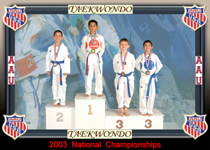 This is a sample of one of the photos from when we did the
AAU TaeKwonDo Nationals.
This is a sample of one of the photos from when we did the
USTU Nationals that same year.
Using those same guys from the other photo, this is one of our most
common and popular arrangements from State or Local tournaments.
Here's one we did at one of the Kick-A-Thons for Chuck Norris' KickStart program.
They just wanted a simple, clean layout with their logo in the corner.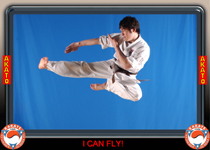 This guy at one of the A-KATO functions had really nice jump kicks.
ACTION shots? We can catch you in your Jump Kick or Mid-Throw.
Famous Celebrity Guests? Great!
We'll give them a photo as a Keepsake from your function.
Obviously, we can customize a design for any given tournament or seminar.
We can use your logo or design something specific for you.
Horizontal, Vertical, "Bordered" or "Plain" with your Logo we can provide
the pictures you need.